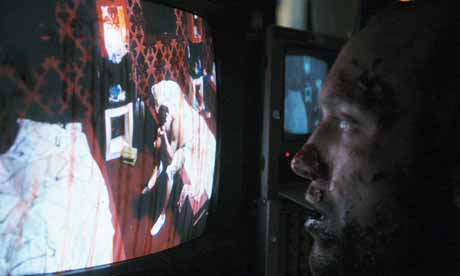 You didn't really think I could stay away for too long, did you? I just can't, not when there are things like Dead Set, the Charlie Brooker-produced horror series that aired last month on Channel 4. Unlike a certain interestingly-premised zombie film from not too long ago that apparently is absolute shit, Dead Set takes its concept, a zombie outbreak occurring on "Big Brother" eviction night and subsequently trapping contestants and staff in the house, and runs with it, bringing it to a satisfying conclusion over the course of 5 episodes with some of the decade's best undead action and, dealing as it does so directly with reality television, a bit of societal introspection as well.


And with humorist Brooker at the helm, expect a bit of black humor with your ultraviolence as well, culminating in a zombie massacre scored with Mika's "Grace Kelly" which is possibly one of the coolest things I've seen all year. Sadly it's unavailable to watch through traditional avenues, as the series' website, which includes full length episodes, is region locked, but it's easily available by more unorthodox means (cough cough, Pirate Bay). And a special nod to the always delightful Simon Pegg, whose
Guardian article bemoaning the prevalence of running zombies in modern horror
led me to this gem of a production.