Or, more specifically, their commenters, for pointing me to this actual entry on the lineup for the 2008 Sundance Film Festival:

OTTO; OR, UP WITH DEAD PEOPLE/ Germany/ Canada (Director and Screenwriter: Bruce LaBruce)— A lonely gay zombie searches for love and meaning in contemporary Berlin. Cast: Jey Crisfar, Katharina Klewinghaus, Susanne Sachsse, Marcel Schlutt. World Premiere
Gay? Zombie? Berlin? Even
I'm
starting to think that I'm somehow responsible for this. And shit, there's a trailer???
And before you even ask, yes, I'm kind of attracted to Otto.
And even better...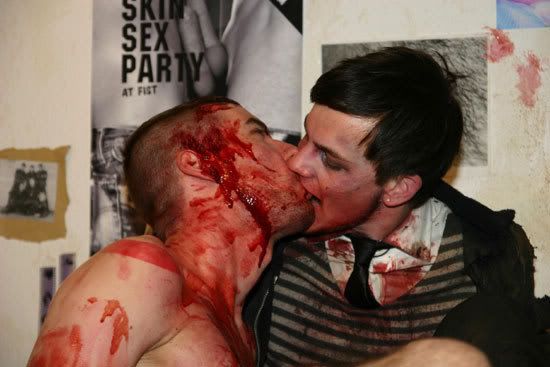 And we cross the threshold of amazingness
here
(very NSFW - I wish so so bad that I could've posted this pic on the blog itself). My mind is totally reeling right now. Seriously. Fuck.
UPDATE: I now realize that in that zombie makeout photo there's a poster in the background (SKIN SEX PARTY AT FIST) prominently featuring two erect penises. And while I try to keep the main page marginally SFW, I can't bear with taking away the picture, so just pretend it's not there. Tell your boss to as well. Also, I kind of want that poster.